Introducing Set Completion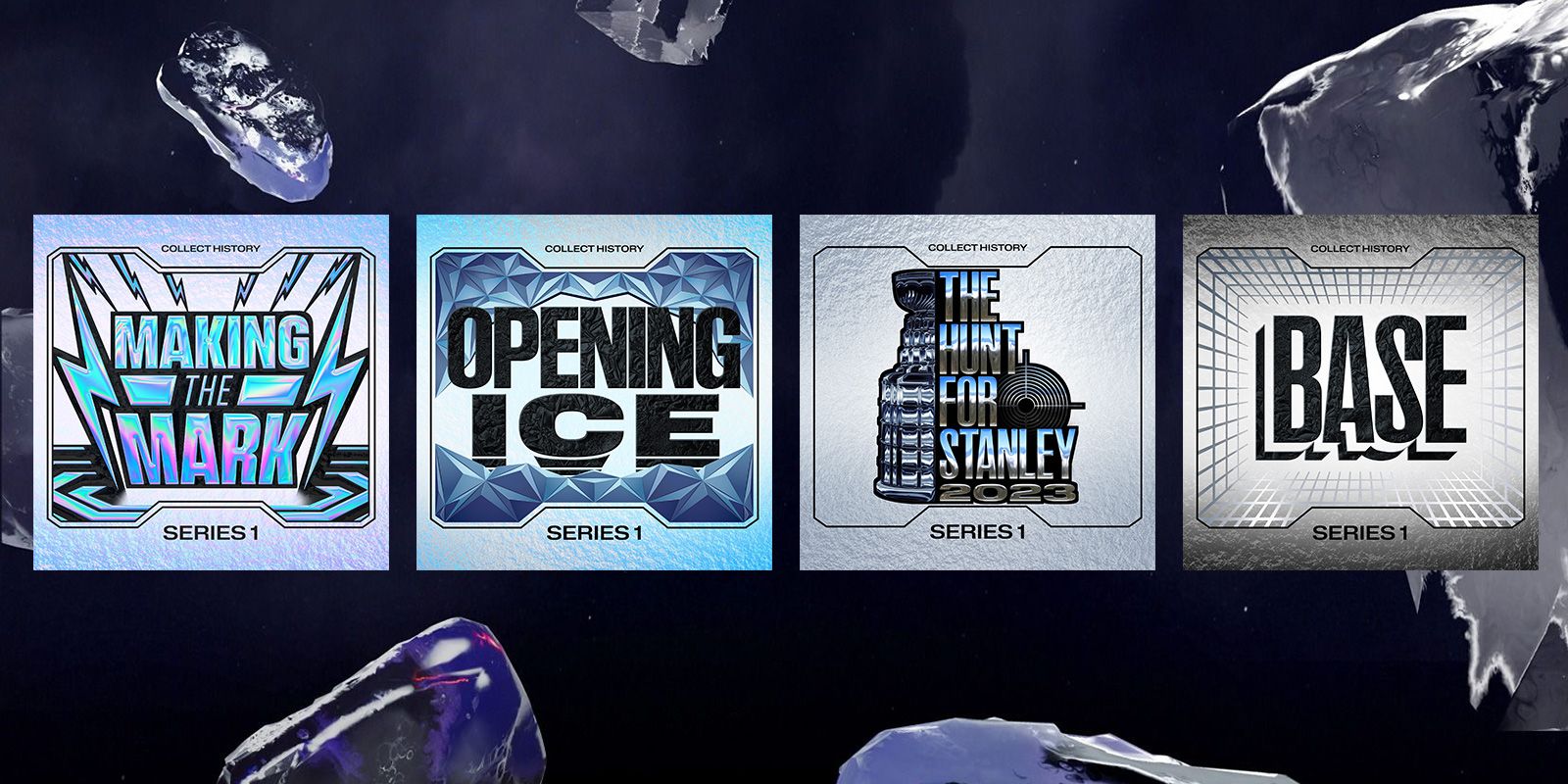 The Beta features keep coming! We're excited to announce the launch of Set Completion on NHL Breakaway – making it easy for you to track your progress towards bragging rights and exclusive rewards!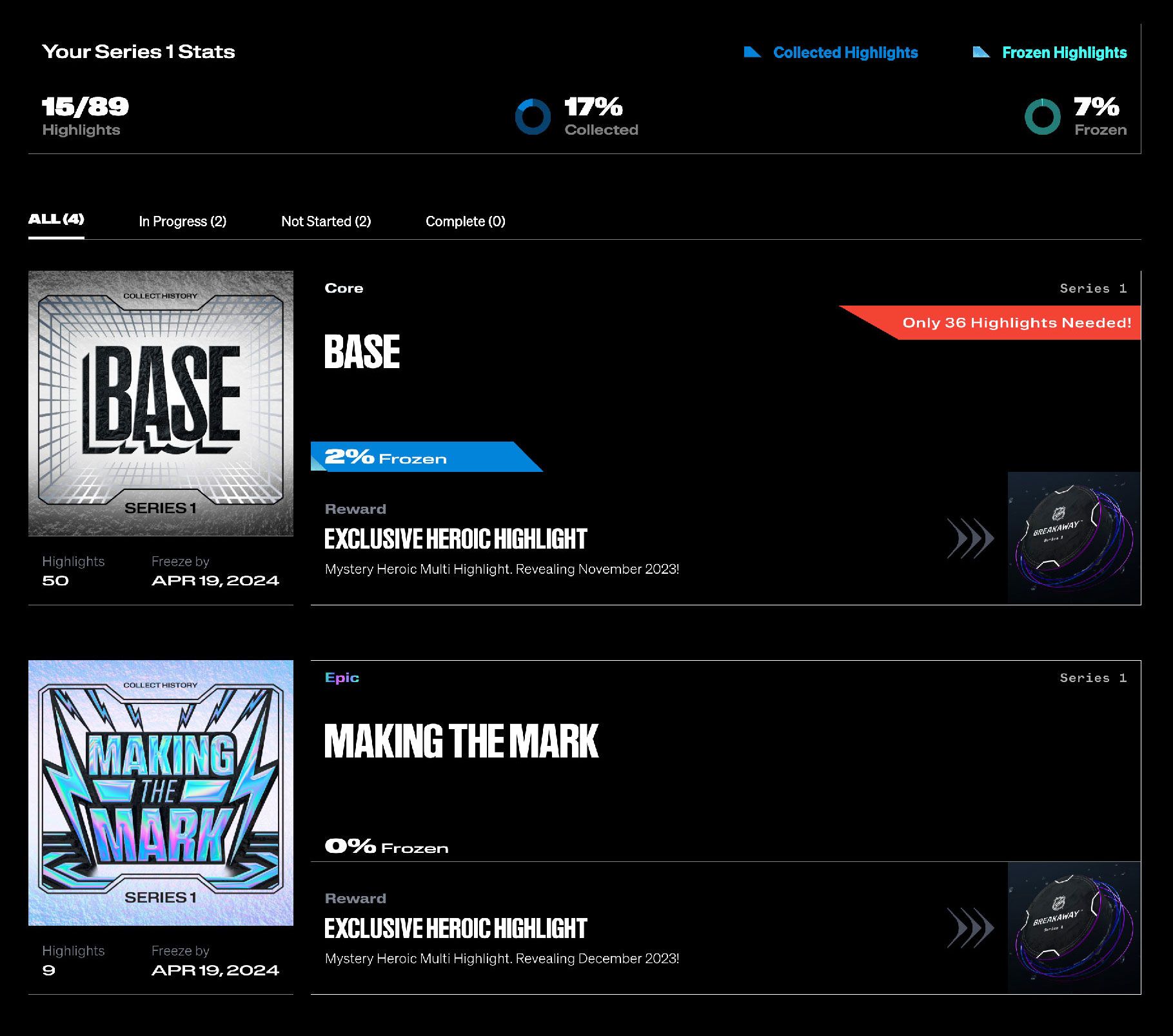 Whether it's Connor McDavid's jaw-dropping 153-point season or Matty Benier's triumphant first NHL goal, every heart-pounding highlight is a part of a larger themed set, allowing you to collect more of what you love. This already includes Opening Ice, Base, Making the Mark, and The Hunt for Stanley 2023 with many more coming over the coming season with Series 1.
How It Works
Visit the Play Hub to get an overview of your progress across all sets
Collect unique highlights from each set you're interested in
Freeze one of each highlight within a set before the deadline in order to claim an exclusive reward
The reward for completing each set will be revealed during Series 1. Each reward will be an exclusive heroic tier Multi-Highlight that is a special edition of a player in the set, or will introduce a new player.
The edition size of each heroic highlight is determined by how many collectors complete the set by the freeze by date. But here's the twist: The highlights will be awarded sequentially, starting with the first collector who completes the set. It's a race against time and fellow collectors to secure the coveted edition #1 of the heroic highlight reward!

What is Freezing?

When you freeze a highlight, you're committing it to the set so that it can't be traded, sold, or gifted until the set completion unfreeze date. Highlights cannot be unfrozen before this date.
Freezing also preserves the integrity of the program by helping ensure that each highlight is only used once toward a set completion reward.

Show Me More!
There are three new areas of the site that we're introducing with the Set Completion feature update:
Homepage Collector Zone
Easily track the set you're closest to completing, as well as viewing other vital stats across your collection.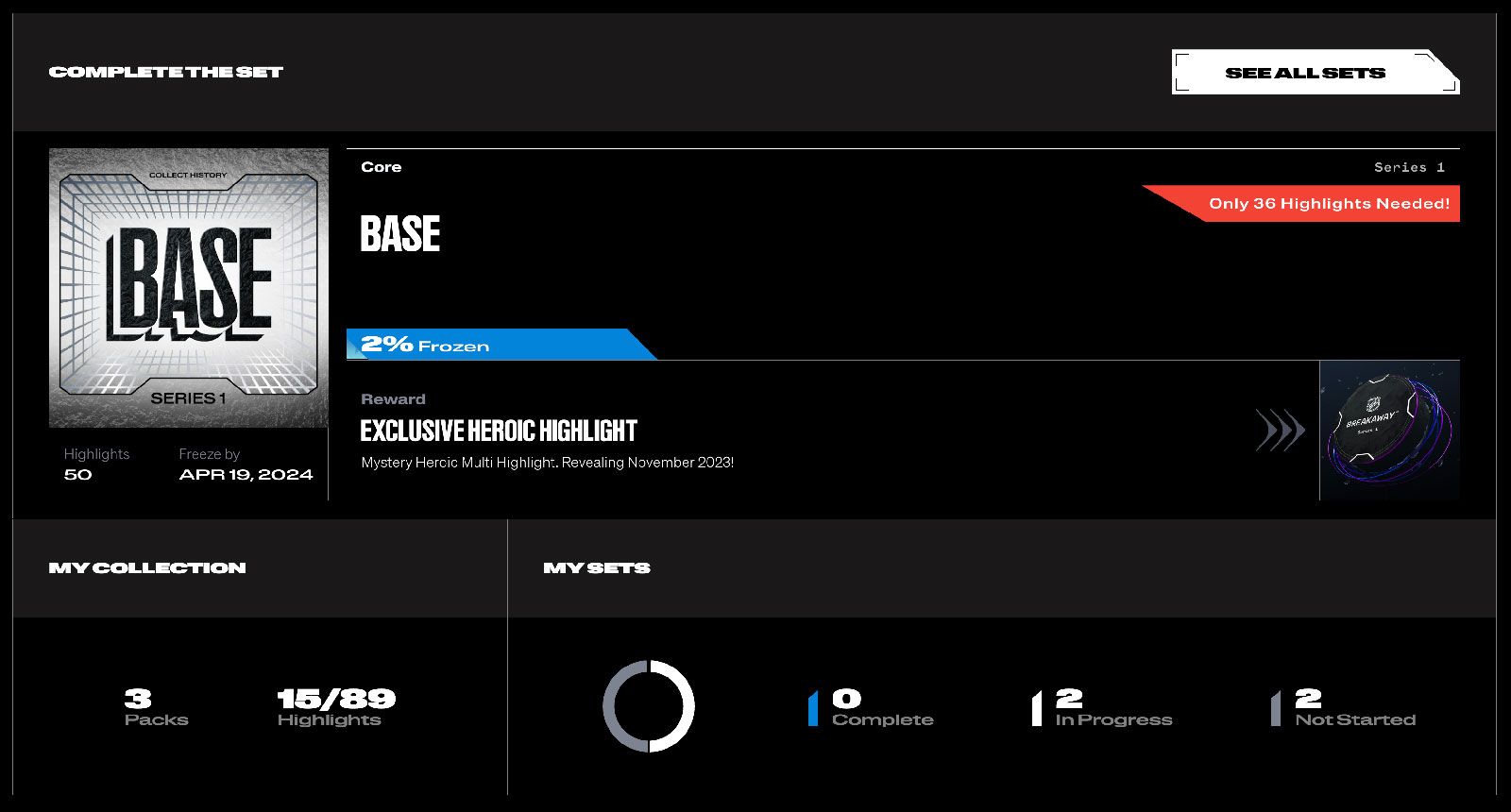 Play Hub
Get an overview of your progress towards collecting all of the NHL Breakaway sets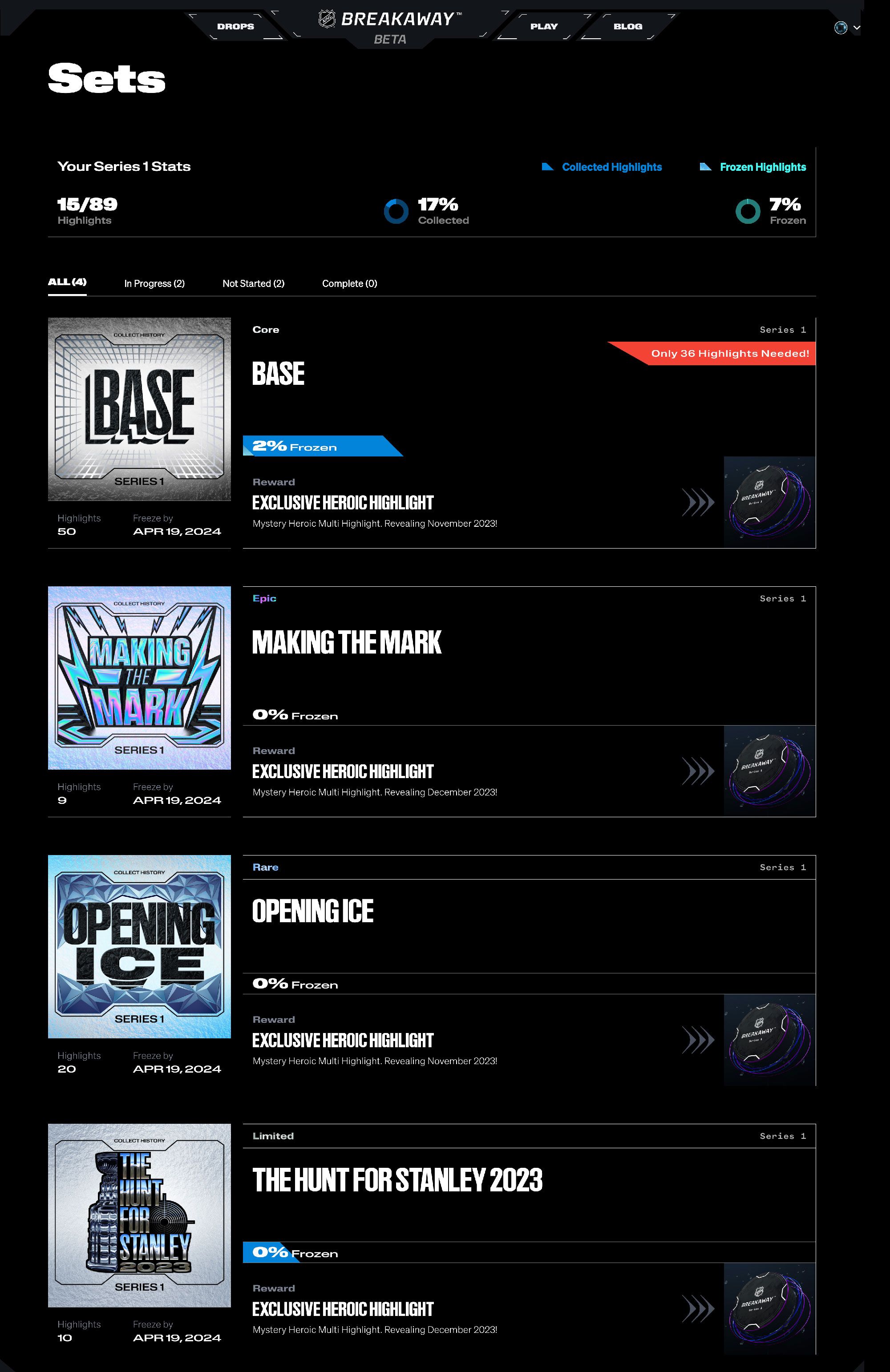 Set Pages
View all highlights within a set, identify what you still need to collect, and freeze your highlights towards earning the set completion reward!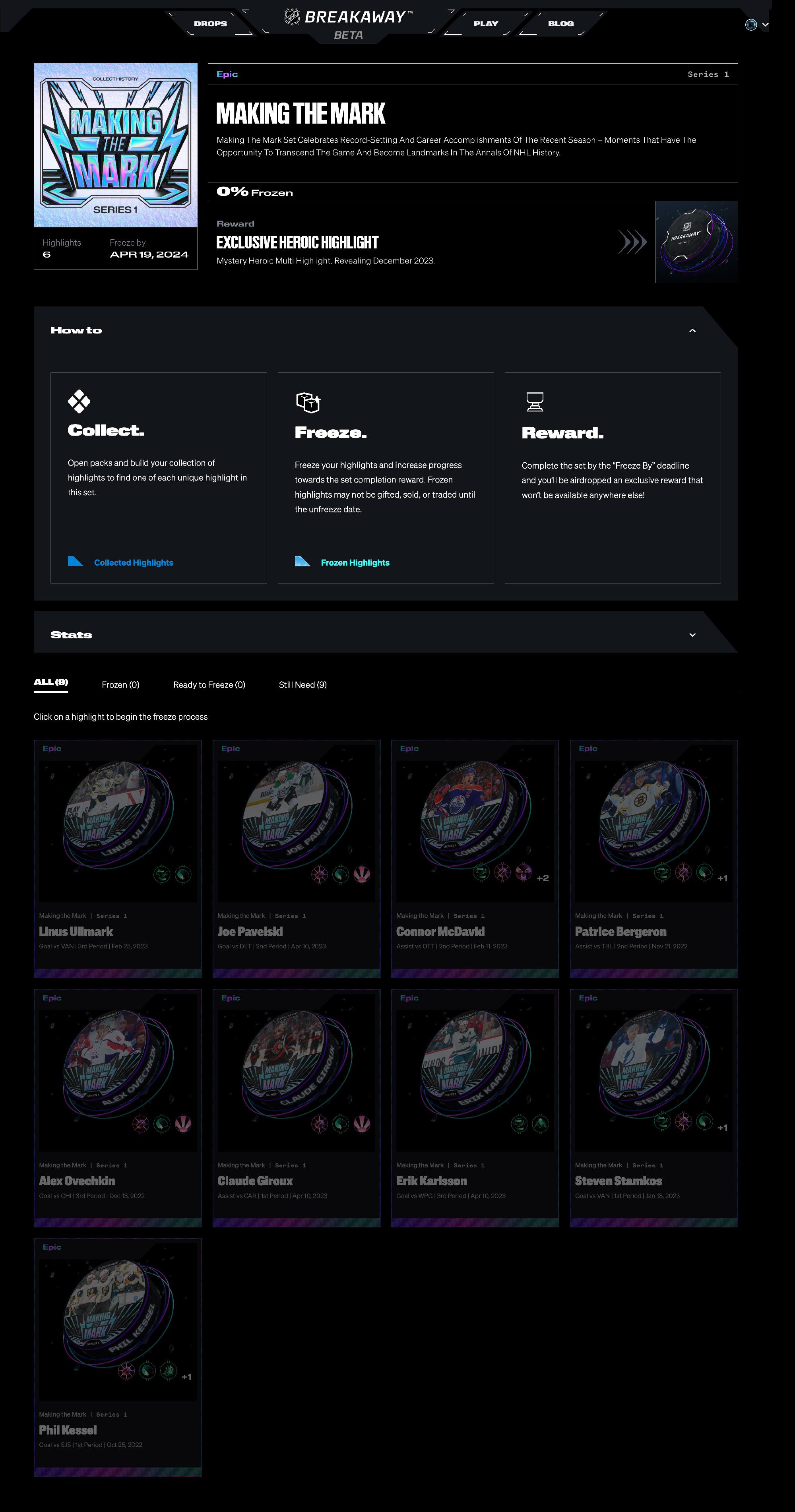 Want More Info?
Visit our Help Center for even more detailed info about each area of the Homepage Collector Zone, Play Hub, Set Pages.
Get ready to embark on your collector's journey in the world of NHL Breakaway, where each set is a new adventure, and every highlight is a piece of NHL history waiting to be uncovered!