Base Set Preview, Rarity Tiers, Pack Details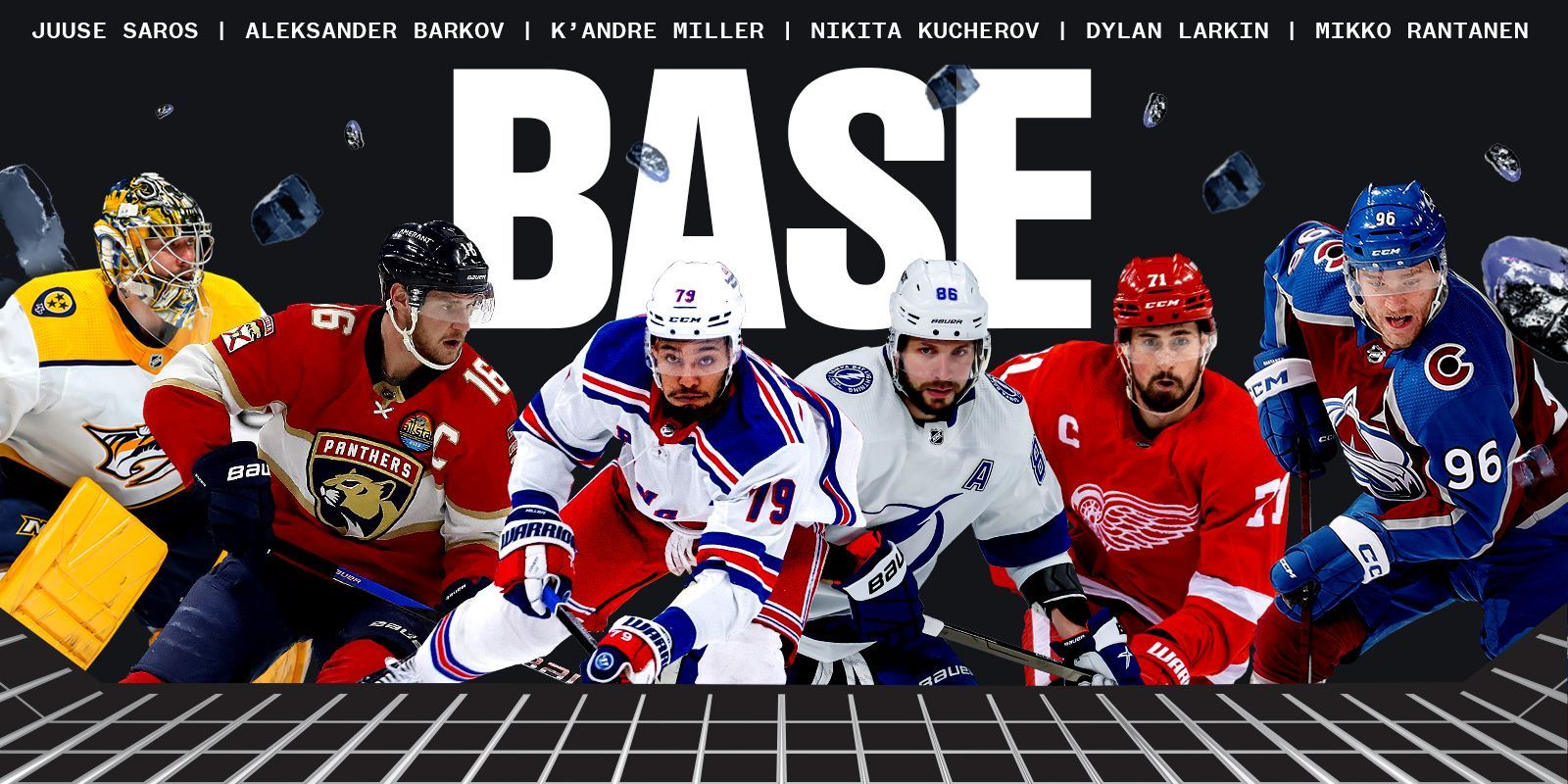 Our second set preview is here! This week we focus on the foundation of Series 1 – the NHL Breakaway Base set, featuring electrifying plays and milestone markers from the 2022-23 season.
The 25 highlights included in the initial Base set include:
New York Rangers defenseman K'Andre Miller's improbable steal, stumble, and recovery on his way to a go-ahead goal against the Flyers 🤷‍♂️
Nashville Predators goalie Juuse Saros's 64-save effort goal against the Hurricanes, the highest save total game of the 2022-23 season 🛑
Florida Panthers forward Aleksander Barkov's second of three goals against the Canadiens, earning him 1st star of the game honors (and the first ever NHL Breakaway highlight that is part of a hat trick) 🧢
Additional highlights from Dylan Larkin, Nikita Kucherov, Mikko Rantanen, and more!


Rarity Tiers
With the introduction of Base set as well as the previously announced Opening Ice set, it's also a great time to reveal the NHL Breakaway rarity tiers.
Our goal is to make the program as accessible as possible in order for new fans to join the community, while giving dedicated enthusiasts the opportunity to elevate their collection with unmistakably premium centerpieces.
There are 6 levels of rarities of NHL Breakaway highlights; each has distinguishing design features and maximum edition sizes, which quantities will remain fixed and not change over time: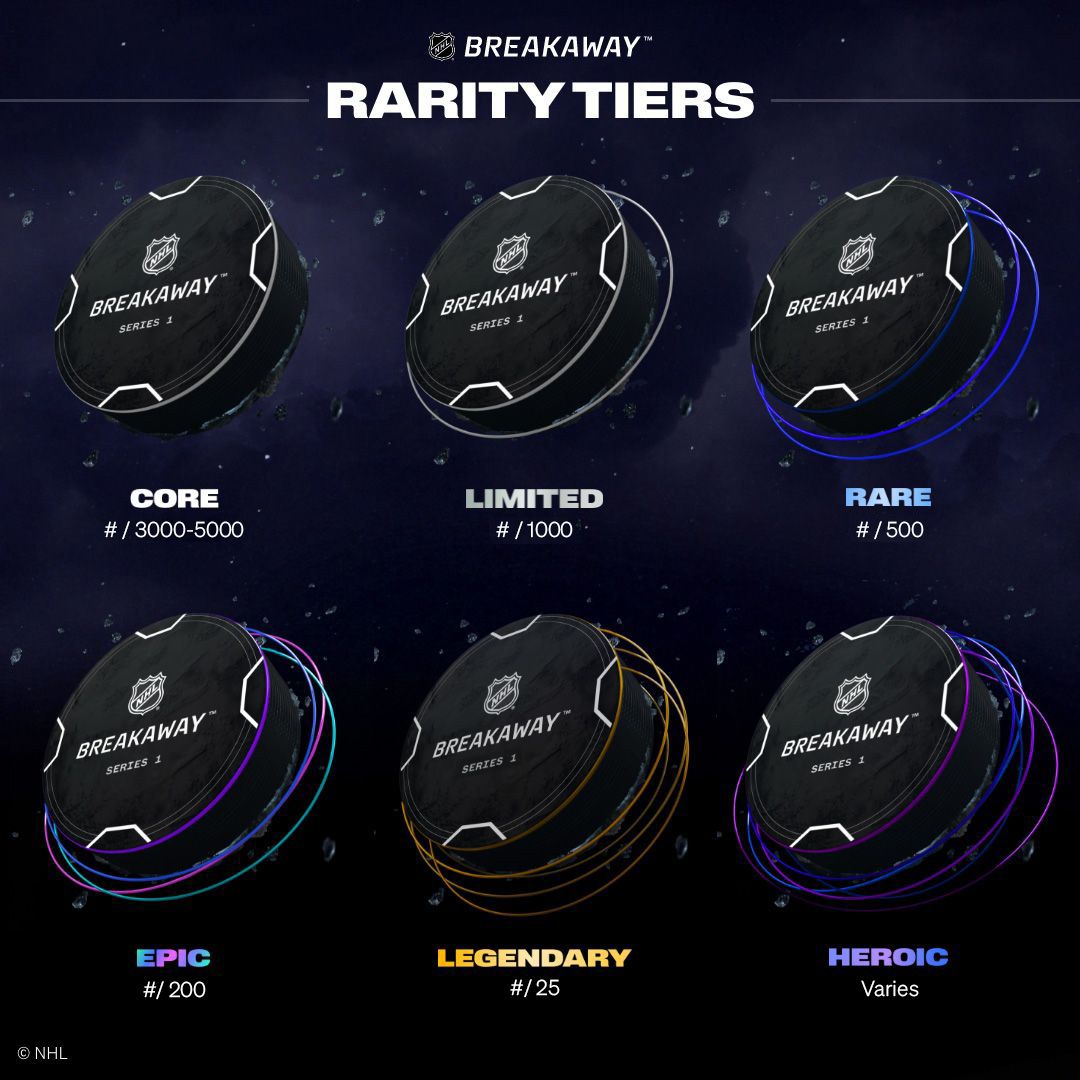 We believe this creates a fantastic opportunity for both novice & seasoned collectors to build their collections as they want to collect, in a manner that best reflects their fandom. Love goalies? Build your collection with several Core and Limited highlights, with a handful from rarer tiers. In the mood to flex a little? Be the first to own all rare Opening Ice highlights.
Our first pack drops will include Core and Rare tier highlights; future drops will introduce the remaining tiers to fans and collectors. Which leads us to...
Pack Pricing & Contents
We're also excited to announce details of our first drop (date & time TBA), which will consist of two packs:
Series 1 Base (Core) packs will be available for $9. Each pack will contain three highlights:
Two (2) guaranteed Base highlights (# / 3000)
One (1) highlight that has 10% chance of being from Opening Ice set  (# / 500), and 90% chance of being from Base set
Opening Ice (Rare) packs will be available for $59. Each pack will contain five highlights:
One (1) guaranteed Opening Ice highlight (# / 500)
Four (4) guaranteed Base highlights (# / 3000)
Exact pack quantities will be revealed closer to drop date.
Once you have a pack, the choice is yours! Break them open and dive into our immersive puck reveal experience, or keep your pack unopened and exchange on the NHL Breakaway fan marketplace, launching later this year.
Apply for Beta
Packs will be available for beta users only! Want in? Click here to apply. Beta invitations will go out later this month to those selected.
Have additional questions? Check out our FAQ.